TILE INSTALL SHOPPING LIST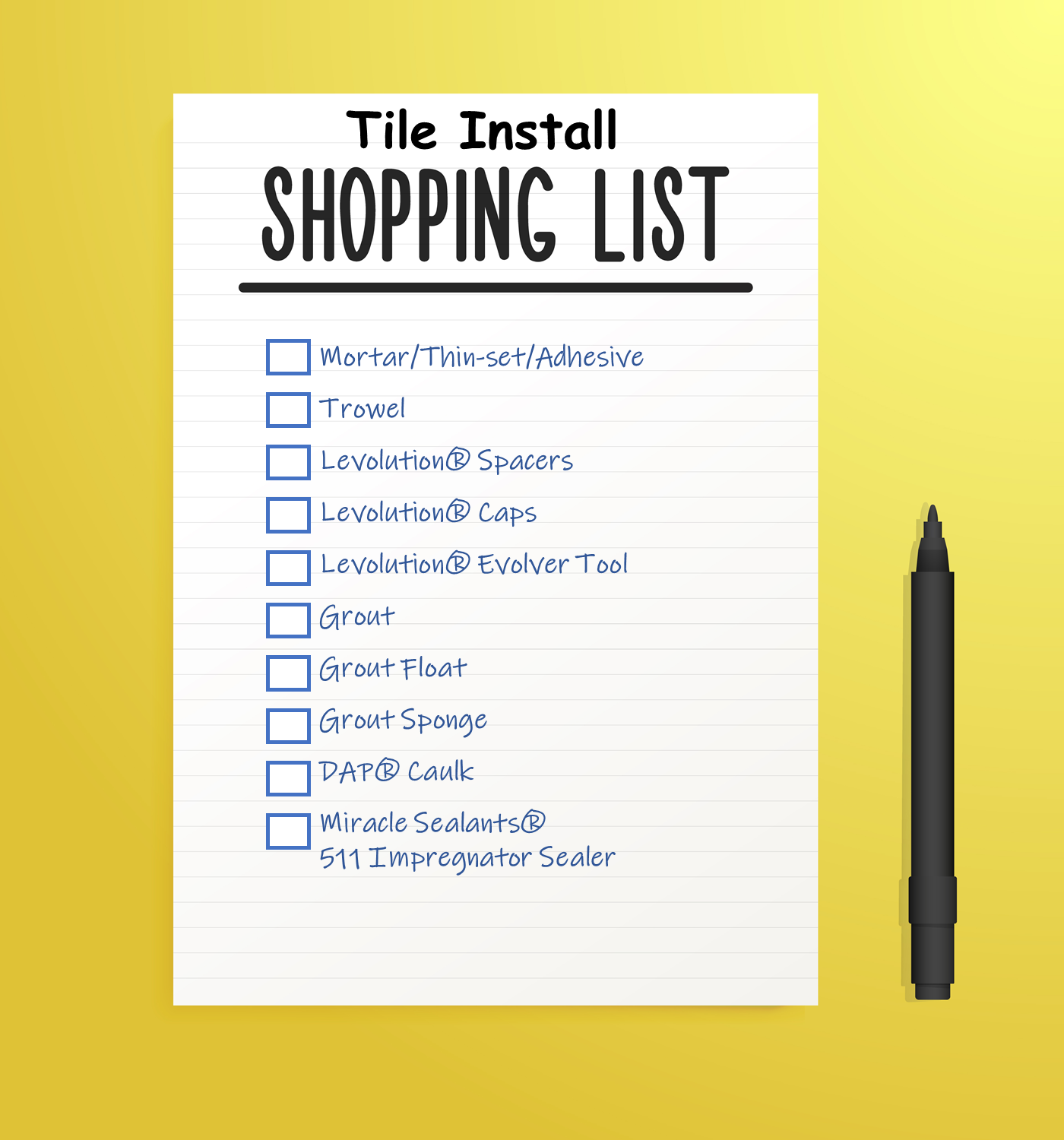 STEP 1
Spread adhesive using a 1/2in (12.7mm) notch trowel.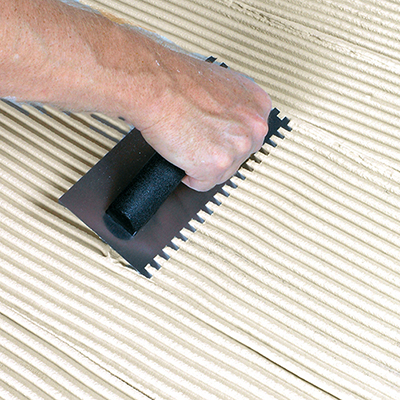 STEP 2
Lay tiles and insert appropriate Spacer using the Flat Spacer along the edge and the Cross Spacer (shown) in the intersection. Spacers are also available in Tees for brick bond projects.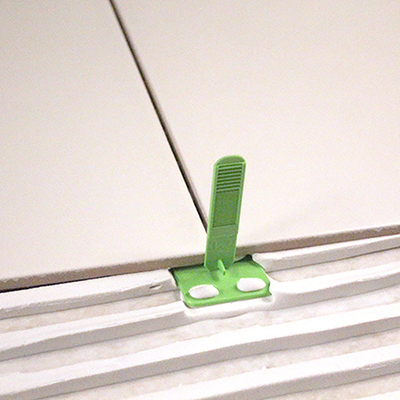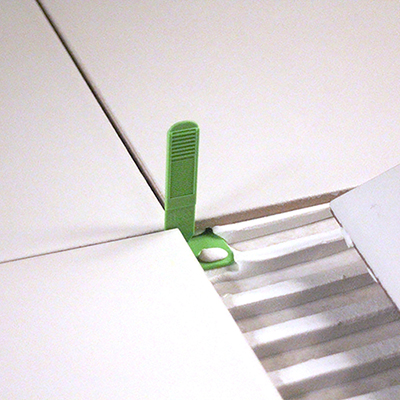 STEP 3
After Spacers/Anchors are installed, place Caps over the Spacer/Anchor firmly.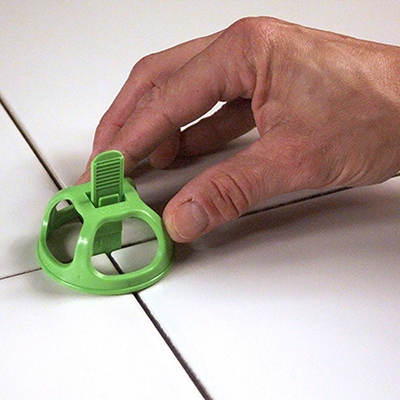 STEP 4
Slide the Evolver Tool onto the Spacer and pull trigger to apply tension between the Cap and tile until the Cap is firmly holding tile. The tension knob at rear of gun can be turned clockwise or counter clockwise to set the tension for the thickness of that tile.

LET TILES FULLY SET/CURE (Per Manufacturer's Setting Material Instructions)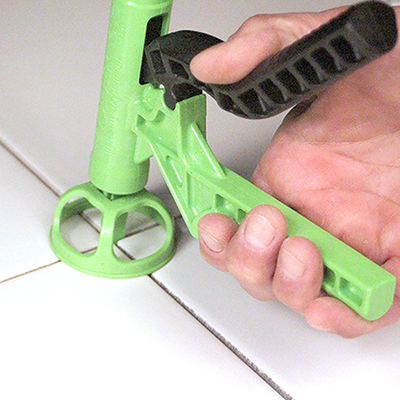 STEP 5
REMOVING REUSABLE CAPS & DISPOSABLE SPACER/ANCHOR

WALLS To remove Caps and Spacer/Anchor after tiles have fully set & cured, wind adjuster knob counter clockwise on the Evolver tool to adjust to maximum tension. Place Evolver Tool back on Spacer/Anchor and pull trigger until Spacer/Anchor breaks off the fully remove.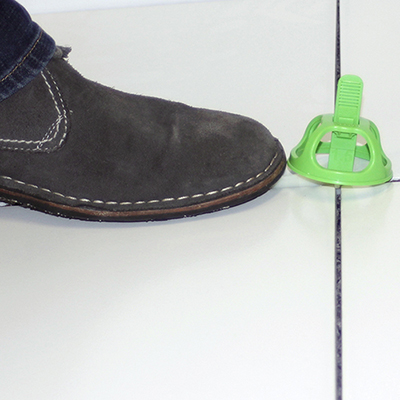 FLOORS Spacer/Anchor can be kicked (parallel to spacer) to break off in order to save time. Once Spacer is broken off Caps can be removed with the Decapper Tool for reuse. On softer Natural Stones & Tiles use Evolver Tool only to remove Caps and Spacer/Anchor as explained above for walls.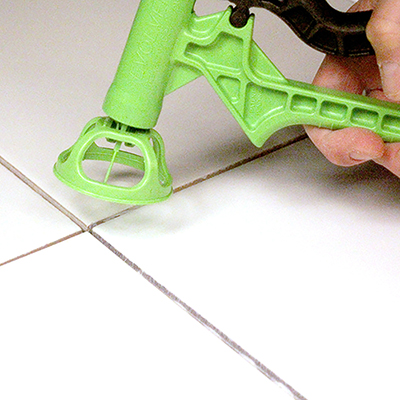 STEP 6
To reuse Cap, insert Decapper Tool and place tapered end (tip) between the Cap and strap/anchor to loosen teeth. Slide the center slot through the Spacer/Anchor and hook under Cap. Push down with thumb while supporting the Cap with index finger and slide Cap upwards removing the Cap from the Spacer/Anchor. Discard the disposable Spacer/Anchor and keep Cap for reuse.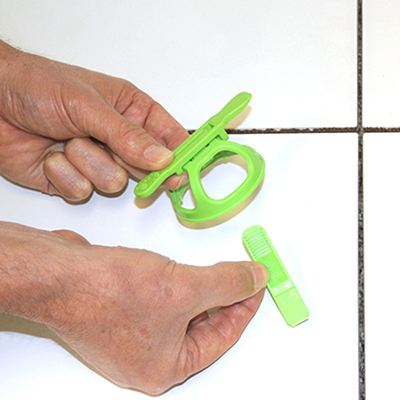 WALLS
Always place Spacer in a vertical position (Cross as shown in diagram) or horizontal position (tee or flat) to avoid chipping tiles when removing.