Orange - Mood & Messages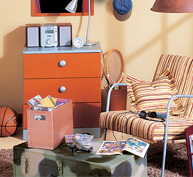 Orange tones often make their way into kitchens, and it's no suprise. These hues are associated with creativity and friendliness, making them a great backdrop for cooking up tasty new recipes. Use the energy and movement oranges bring in other idea-generating spaces, such as your home office or art nook.
As trim, oranges create order and equality. Use them to break up large halls or stairwells. Oranges are often an accent color of choice in modern open-plan or double-height interiors. Partition lofts and studios with orange accents, borders and walls.
In their purest forms, oranges are too overwhelming for all but the most open of spaces. Lighter oranges, however, bring delicacy to nearly any area. People in cooler climates often like darker oranges due to their association with warmth and the sun.
Tips
Use oranges in spaces where you want to stimulate creativity
Get Inspired!
Visit our Inspiration area for great project ideas.