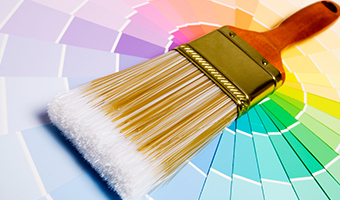 How to Choose Exterior Paint Colors
A fresh coat of exterior paint can transform your home's appearance. Whether you want to improve your curb appeal by painting your home's entire exterior or by simply adding a pop of color to your front door, these tips can help guide you through the paint color selection process.
Decide What Paint Colors You Like
That freshly painted burnt umber siding down the street might be getting praise in the neighborhood, but that doesn't mean that color is right for you. With so many colors to choose from, there's nothing wrong with narrowing down the choices by nixing shades that simply aren't your taste and focusing on the ones that you find most appealing.
Consider How You Want Your Home to Look
When choosing paint colors, consider how you want your home's exterior to look. Do you want it to blend in with your subdivision or would you like to have the most eye-catching home on the block? For inspiration, look at color schemes in the neighborhood and see which ones you like best. Also, if you have a homeowner's association or live in a historic neighborhood, make sure the colors you're considering are in compliance with any rules or restrictions pertaining to exterior paint color.
Review Paint Color Palettes
Some retailers offer color trend cards provided by the paint manufacturer. These color palettes are curated by experts who have picked out colors that go together. Many of these cards suggest trios – colors for the main body of the house, accent areas and trim. By choosing the siding colors you like best, you'll be able to easily identify complementary paint colors for your trim, shutters and front door.
Next, bring some paint swatches home and compare them to the parts of the house that won't be painted. Do you like how they look next to the bricks, stone or roof? Color visualizers in mobile apps are another good way to help you envision how different colors will look on your home before you commit to a certain shade or palette. If you're looking to simplify the color choice process, some companies provide a curated, limited selection of colors.
Plan for the Future
It's also a good idea to think about the purpose of your home's new exterior paint. Are you planning to remain in your home and enjoy the new look? If you're planning to stay, choose paint colors that will appeal to you each time you return home. But keep in mind that paint colors are a matter of taste, and while you may love to have a periwinkle front door, another owner may not. So if you're refreshing the paint with the intent to sell your home, it's generally a good idea to select a more neutral color that will appeal to a greater number of potential homebuyers.
Whether your home is in need of a completely new look or you want to add some visual interest with a trendy color on your front door, exterior paint is an easy way to transform the appearance of your place. And with so many paint colors to choose from, it's only a matter of time before you find the ones that are right for your home.