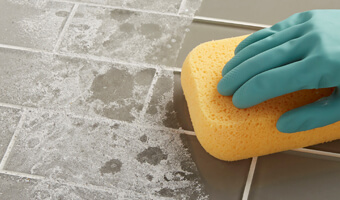 Cleaning tile and grout regularly, and occasionally sealing it, prevents the buildup of dirt, debris, scum, mildew or mold. The best way to clean tile depends on what kind of tile you have and where it's located. Here's a look at how to clean grout and tile, whether it's exposed to routine foot traffic, bathroom humidity, spills or kitchen splatters.
How to Clean Tile
When sweeping, mopping or wiping isn't enough, it's time to more thoroughly clean tile surfaces. After removing loose debris, a specialty tile cleaner can help cut through the rest.
It is always important to first try a pH-neutral cleaner that contains ingredients safe for different types of tile and stone. Many formulas, including Miracle Sealants Tile & Stone Cleaner, are strong enough to remove common messes. Allowing the cleaner to sit wet on the surface (often referred to as "dwell time") for a couple of minutes helps the chemistry in the cleaner go to work.
If you find that you need a stronger cleaner, products like Miracle Sealants Porcelain & Ceramic Tile Cleaner can be used to clean floor tile as well as wall tile with a sponge or nylon brush. The clinging formula easily removes stains, soap scum and hard water deposits on bathroom wall tile; grease splatters on kitchen wall tile; and everyday grime and scuff marks on tile floors.
For tougher stone or grout cleaning jobs, turn to Miracle Heavy Duty Cleaner (Acid Substitute). In addition to cleaning tile, this industrial-strength, non-corrosive solution can be used on marble, granite, limestone, slate, concrete and polished stone. It also removes grout haze, making it an ideal cleaner for newly installed tile.
When using any tile or grout cleaner, be sure to follow all directions on the product label, paying attention to details like recommended dwell time, scrubbing and rinsing.
How to Clean Grout
The tile grout can attract grime over time, and if water doesn't drain from grout, it can lead to mildew or mold. It's important that you never use a bleach or acid cleaner on grout. Those harsh solutions can erode the grout, causing damage like pitting, cracking and flaking.
Leaving bathroom fans on and doors open after showering can go a long way to helping grout dry out between showers. Regular use of a pH-neutral cleaner can further help prevent grout buildup. That's why using grout cleaner with a stiff, nylon grout brush, is an important part of your regular tile-cleaning routine.
How Do You Keep Tile and Grout Clean?
Routine cleaning can help keep your tile and grout looking new. Applying a sealer over clean grout, tile and stone makes deep cleaning easier and less frequent, because dirt and grime are kept at the surface.
Miracle Sealants 511 Impregnator Sealer goes deep into grout and tile to help defend it against moisture and stains with an invisible seal. This tile sealer can be used on many types of tile, including glass, granite, quartz, marble, travertine, concrete and limestone.
Once sealed, consider a cleaner that also maintains the sealed surface. Miracle Sealants 511 Kleen & Reseal is an everyday cleaner and sealer in one that leaves tile with a streak-free shine.
If grout is the main concern, like in showers, a separate application of grout sealer will help resist moisture and prevent stains from forming in grout joints.
Cleaning tile and grout helps keep it looking new. By cleaning and sealing tile and grout, you can enjoy its appearance for years to come.