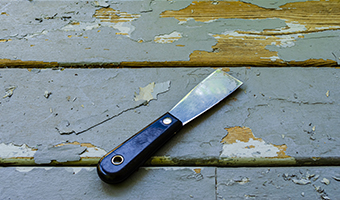 Exterior House Painting Tips
If your home's exterior is in need of a refresh, a new coat of paint may be just what it needs. If you're planning to paint your house as a DIY project, choosing new exterior paint colors is just the start. It's also important to complete some prep work and select the products that are right for your home's exterior surfaces. Before you begin, check out the answers to some frequently asked questions about painting a house.
Can I paint over aluminum or vinyl siding?
Yes. Painting aluminum or vinyl siding is an effective and more budget-friendly alternative to replacing it. When buying paint for your home, be sure to choose an exterior paint formula. Exterior paint contains additives that provide defense against the weather, which helps prevent the color from fading from sun exposure, for example.
Do I need to remove the current coat of paint?
If the old paint on your siding or trim is chipping or flaking, it's important to remove it before you repaint. A scraper can help you remove any loose paint and provide a smooth surface for your new coat of paint.
Do I need to cover my shrubs and bushes before I paint?
Covering your landscaping with drop cloths or plastic sheets can help protect it from debris and paint spills. Lightweight protective barriers tend to be best, so that you don't accidentally crush the vegetation you're trying to protect.
Do I need to clean the siding before I paint it?
It's a good idea to clean your siding before painting it. Pressure washing is a good way to remove dirt and debris from your home's exterior before you paint. Krud Kutter Pressure Washer Concentrate removes dirt, tree sap, bird droppings, mildew, mold and more from your home's surface, giving you a clean slate to begin your painting project. Make sure your home's surface is dry before you begin to paint.
Do I need to prime the siding before I paint it?
Primer can help paint better adhere to your home's exterior. A paint primer like Zinsser Bulls Eye 1-2-3 can provide a good base coat for aluminum or vinyl siding, whether or not it's previously been painted. Be sure to prime any areas that you have replaced with new wood or any exposed areas after scraping off loose paint.
What is the best outdoor temperature for exterior painting?
Keep an eye on the weather a couple days before you paint to make sure you are painting somewhere in a range between 50 – 90 degrees Fahrenheit. Painting in prolonged direct sunlight can adversely affect drying time. It's important to allow proper open time so a wet edge can be maintained.
How should I fill holes in wood siding?
Filling holes in wood siding or trim will help strengthen it and give you a consistent surface to paint. Plastic Wood-X™ Repair Kit, from DAP, is a great product to eliminate holes in your wood siding.
Should I paint my siding or trim first?
Start with painting the siding and body of the home first. Then you can move on to trim, shutters, window boxes, fascia, with doors and door frames lasts.
Painters tape is welcomed outside too. It can help keep lines clean and prevent messes on previous painted areas. Use it especially around door and window frames. Read the label on the painter's tape to make sure it's made to apply on your type of substrate.
Painting the exterior of your house requires the commitment of time and physical labor, so it's important to do the job right. With good preparation, you can proceed with more confidence as you begin the process of painting your own house.