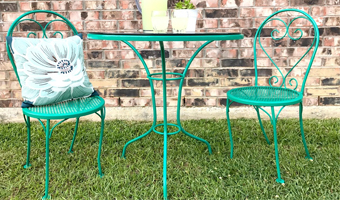 Spray painting furniture is an easy way to save money while making outdated pieces look new again. Before you get started, though, it's a good idea to know what kind of spray paint to use on different types of furniture. These tips will help you successfully paint wood furniture as well as metal.
Can You Spray Paint Wood Furniture?
When you spray paint wood furniture, you can breathe new life into an old piece. A chalked paint finish, smooth glossy finish and satin finish are just some of the options when you decide to spray paint wood tables, dressers and chairs. You can spray paint unfinished wood furniture as well as furniture that was previously stained or painted.
Before you spray paint wood furniture, it's important to do some prep work to ensure good results. First, remove any hardware, such as handles and knobs, and set them aside. Use a solution like Krud Kutter Cleaner & Degreaser to remove any dirt or grime from the furniture, and give the knobs and handles a wipe-down, too. Using a deglosser is a good way to help new paint adhere to shiny surfaces.
Next, it's time to do a little surface prep. Lightly sand the wood to remove rough spots or scuff up any existing varnish. This will help the spray paint adhere to the wood. Use a lint-free cloth to wipe away the sanding dust.
Before using spray paint, it's a good idea to apply a coat of paint primer. Rust-Oleum 2X Ultra Cover Spray Primer seals bare wood so the paint doesn't absorb too quickly into the porous surface. It also leads to a smoother and longer-lasting spray paint finish.
Once the primer is dry, you're ready to apply spray paint. Be sure to follow the instructions on the paint can's label. The label will include important details such as how long to shake the spray paint can before applying it, how far to hold the can from the furniture you're painting, and how much time you should wait between coats of paint to prevent it from wrinkling. Also, note how long you need to let the final coat dry before handing the furniture.
In addition to painting wood furniture, you can follow these same steps to spray paint particle board as well as wicker furniture.
How to Spray Paint Metal Furniture
From patio furniture to desks, spray paint makes it easy to transform the look of metal furniture. After sanding away any rusty spots and making sure that the metal is clean, you're ready to begin.
A coat of spray paint primer is a good way to start before you spray paint metal furniture. This is especially an important step if you're painting dark metal furniture a lighter color or want to double up on the rust prevention.
Then, follow the directions on the can to add the spray paint of your choice. Stops Rust's rust preventive formula comes in a variety of colors and finishes, including metallic, textured and hammered, or you can always opt for the look delivered by a more traditional spray paint.
As always, follow the directions printed on the can to make sure you apply the spray paint correctly, Also, make sure the paint dries for the recommended length of time between coats and before using the furniture.
How Do You Protect Spray Painted Furniture?
A clear topcoat can be applied to wood or metal furniture to give its new spray paint extra durability. This will provide an additional line of defense against chips or scratches.
Like colored spray paint, clear top coats are also available in a choice of finishes. For instance, you might pick matte and gloss enamel for metal furniture, or matte, satin, semi-gloss or gloss topcoats for wood furniture.
Can You Spray Paint Hardware?
Painted hardware puts the finishing touch on newly spray painted furniture. Whether you decide to paint your knobs or drawer pulls to match the wood, give them extra glam with the metallic or hammered finish offered by Rust-Oleum Universal Spray Paint, or add rust resistance to metal hardware with Rust-Oleum Stops Rust Spray Paint, newly painted hardware is an easy way to complete the look of your refinished furniture.
Whether you want to update an old piece or add a pop of color to your room, spray painting furniture and hardware is a great way to extend the life of tables, chairs, dressers and more without the cost of replacing them. Your efforts will likely also be rewarded with compliments in addition to the sense of pride that comes with completing a DIY project.