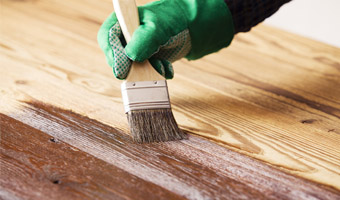 How to Stain a Deck
Staining a deck is an important step in protecting the wood and enhancing its appearance. Whether you're refinishing a deck or installing a new one, it's a good idea to protect it with wood stain.
Why Should You Stain a Deck?
Staining a deck is a good way to enrich the color and prolong the life of the wood. Stains like Wolman Exterior Wood Care® products include pigment, which lets you give bare wood a preferred color. Wood stain is also water-resistant, meaning it doubles as a sealant. Staining a deck helps protect it against the wear-and-tear caused by everyday use and exposure to the sun, rain and snow. However, if your deck is new, it's important to let the wood weather for at least six months before using a deck stain.
Do You Need to Seal a Deck?
If you stain your deck, you generally don't have to apply a separate sealant. Unlike interior wood stain that requires application of stain plus another coating of a sealant, most exterior wood stain provides stain color plus a sealant in a single product.
However, if you're not using deck stain, you can protect it with a clear sealer such as Wolman RainCoat® Clear Sealer. The sealer is available in water-based and oil-based formulas. It is designed to repel water, resist mildew and help prevent wood from cracking, splitting or warping.
Wolman Raincoat® Oil Based Clear Sealer is a unique formula that can be directly applied to a new wood deck to give it immediate protection. Meanwhile, water-based clear sealers or stains with sealant typically require you to wait six months before applying them to new wood.
How Do You Refinish a Deck?
Refinishing a deck allows you to change the color of previously stained wood. This project requires a few key steps. First, you'll want to remove the old wood stain with a product like Wolman DeckStrip® Stain and Finish Remover. A power washer or deck brush is needed to help remove old coatings. Next, clean the wood with a solution such as Wolman DeckBrite® to restore the wood to its natural color. Finally, choose your favorite tint of wood stain and apply it to the wood. Be sure to follow all product instructions for the best results.
How Do You Maintain a Deck?
Wood stain or sealant goes a long way toward preserving the life and appearance of a deck. However, periodic maintenance is also important. Cleaning your deck can remove dirt and other stains, and it's a good idea to reapply stain or sealant every few years to help maintain the wood's appearance and protection.
How Do You Maintain a Composite Wood Deck?
Composite wood decks tend to require less maintenance, but they may still need some care to keep them clean and in good condition over the years. Over time, composite decks can fade and lose their water- and stain-resistant qualities. Cleaners and coatings specially formulated for use on composite decks can keep them looking great.
Dirt, mold, moss and spills can stain composite decks. Products like Rust-Oleum® RockSolid® Composite Deck Cleaner remove stains caused by dirt, mold, mildew and moss, while RockSolid® Composite Deck Stain Remover tackles stains left by food and beverages, grease and cooking oil, as well as mold and algae.
As with a traditional wood deck, it's important to clean the surface of a composite wood deck before coating it. Once your deck is clean, RockSolid® Composite Deck Refresh makes it easy to revive its color and add protection against damage, fading, mold and mildew, in a single application.
A wood deck can be an ideal outdoor gathering place, and upkeep efforts help keep it looking great over time. By taking steps to protect and maintain your backyard deck, you can enjoy it for years to come.