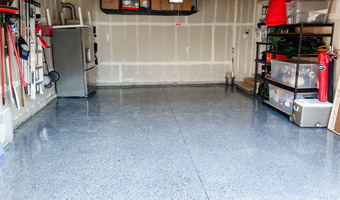 A garage floor coating is a great way to beautify and protect a concrete garage floor. A coating makes it easier maintain and clean a garage floor, whether you're using the space to store a car, exercise or entertain guests.
If you're planning to apply a garage floor coating, you'll have to choose between garage floor paint and an epoxy garage floor coating. It's important to understand what each type of product does so you can choose the best garage floor coating option for you.
What Is Garage Floor Paint?
Garage floor paint is typically an acrylic paint that improves the look and durability of a concrete floor. It adds chemical- and stain-resistance to indoor and outdoor concrete. Garage floor paint is sometimes referred to as a one-part garage floor coating.
As its name suggests, Rust-Oleum Concrete and Garage Floor Paint + Primer is a paint and primer in one, which means you can coat your garage floor in a single step. It's available in different colors, including traditional neutral shades, tinted colors including blues and greens, darker and richer paint colors and metallic finishes. Garage floor paints typically dry to a satin sheen. If you prefer a glossier finish, you can add a clear topcoat, which can also add further protection against spills and the elements.
What Is an Epoxy Garage Floor Coating?
An epoxy garage floor coating provides greater protection than garage floor paint. It resists hot tire pickup and spills, making it easy to clean up vehicle fluids like oil and antifreeze as well as tracked-in road salt. An epoxy garage floor coating is sometimes referred to as a two-part garage floor coating.
Rust-Oleum EpoxyShield Garage Floor Coating is five times stronger than a standard one-part epoxy and its glossy finish gives the floor an upscale look, whether you store vehicles in your garage or use the space as a home gym or artist's studio. This water-based epoxy is offered in different colors and can be embellished with color chips, which come in the supply kit. EpoxyShield offers even greater durability and gloss when you add a clear topcoat.
What Is the Most Durable Garage Floor Coating?
When ultimate durability is your goal, turn to an industrial-grade Polycuramine coating. Like a two-part epoxy coating, Polycuramine defends garage floors against salt, gas and oil and also provides protection against harsh chemicals. Rust-Oleum RockSolid Polycuramine Garage Floor Coating is 20 times more durable than regular epoxy, which means it can last a lifetime.
Polycuramine coatings deliver the highest gloss, resulting in a showroom-quality finish. They are available in a variety of colors as well as different finishes that create the appearance of granite and marble. A clear gloss or textured topcoat adds extra defense against cracking, peeling and damage from hot tires and grease. Colored RockSolid garage floor coating kits also include decorative color chips as an option for adding visual interest.
Are Garage Floor Coatings Hard to Apply?
Garage floor paint, EpoxyShield and RockSolid garage floor coating are easily rolled on like paint. However, no matter what type of garage floor coating you choose, it's important to properly clean and prep your concrete to ensure the coating adheres.
Checking for moisture and to see if your concrete was previously coated will help determine what kind of prep work you need to complete. This preparation may include cleaning, etching or priming, and filling any cracks before applying the coating. The full process, from prepping to coating, can take several days to complete.
Garage floor paint is often a paint and primer in one. While it generally covers a concrete floor in just one coat, you can choose to roll on a second coat after 24 hours. Out of the various garage floor coating options, garage floor paint takes the longest to dry. You'll need to wait five days before driving over a garage floor after applying Rust-Oleum Concrete and Garage Floor Paint + Primer.
The more durable garage floor coatings require some mixing in an easy-to-use pouch. Once mixed, the coating needs to be applied within a specified timeframe to prevent it from hardening before it's on your floor, so you'll want to make sure you stay on schedule and have someone to assist, if necessary. An epoxy coating will need to dry for three days before you drive on it, while a Polycuramine coating is typically ready for traffic the next day.
When choosing a garage floor coating, it's important to consider a number of factors, such as how much time you have to complete the project and how durable you want the coated surface to be. As with any product, following the instructions on the label will lead to the best results. Then, once you've applied the coating that fits your needs, you can take pride in your newly finished garage floor.