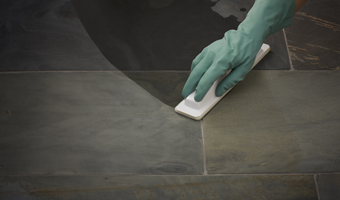 Tile sealer gives a long-lasting protection to tile and other hard surfaces, making it easier to remove dirt and stains. Some tile sealers, such as certain Miracle Sealants 511 products, can also be used on glass tile, granite, quartz, marble, travertine, concrete, limestone and more.
Does Tile Need to Be Sealed?
Generally, it's a good idea to seal tile. You may think of tile as a solid surface that can easily be wiped clean. However, it's still possible for spills to soak into and stain unsealed tile and other hard surfaces – including grout. For instance, if you spill red wine on an unsealed limestone tile floor, it will absorb and be difficult to remove. But when liquid spills over a surface that's been treated with a Miracle Sealants 511 product, the liquid will bead on top, making cleanup easy.
Should I Seal Brand New Tile?
Applying tile sealer after the installation of new tile is a logical step in the home renovation process. Tile sealer can help protect your floors and other tile, stone and grout surfaces from the start, which means they'll look new longer. Considering how much tile and installation costs, sealing is a key preventative step to protect your new investment.
Can I Seal Old Tile?
Rejuvenating your existing surfaces is a less expensive alternative to replacing them. Sometimes, all surfaces need is a good deep clean, followed by a penetrating seal to keep the dirt from going deep. The key with deep cleaning is dwell time – letting the cleaner sit on the surface to do its work before wiping or scrubbing it up.
What Is the Difference Between Tile Sealer and Grout Sealer?
Tile sealer and grout sealer are designed to protect different surfaces. While some products, like 511 Impregnator Sealer, can be used on both tile and grout, other products are made specifically for grout. Not all sealers are the same. Read the product labels to make sure you understand what each sealer does. If there is a Miracle Sealants 511 in the title, you can be confident it is a penetrating sealer great for natural stone and grout.
What Types of Surfaces Should I Seal?
Miracle Sealants products can be used on a wide variety of hard surfaces both indoors and outdoors. In addition to floors, you can seal the seal kitchen backsplash, showers, fireplace surround, outdoor pavers, stone facades, backyard flower pots and lawn statues.
How Do You Use Tile Sealer?
Once you clean the surface and it is dry, you're ready to protect it. Tile sealer is generally easy to use. Simply follow the product application directions, let the sealer penetrate the surface for up to 5 minutes and wipe away the excess. Miracle Sealants sealers can be used with an applicator or with a lint-free rag, brush or sponge for even coverage.
What is the Difference Between Solvent-Based and Water-Based Sealers?
Every sealer needs what's called a "carrier" to bring the protection into the surface. That carrier can either be solvent based or water based. Solvent-based sealers use micro-molecules to penetrate deep into the surface for long lasting protection. They also tend to dry more quickly than water-based sealers. Water-based sealers, especially when they are an advanced or premium formula, can also protect well and are great for applying in areas without good ventilation, as they have a low odor.
How Do You Maintain Tile After It's Sealed?
Many natural stones, like marble, and many types of grout are sensitive to acid. If harsh cleaners like vinegar are used, they can permanently scratch the surface of the stone. And grout can degrade, leading to cracks that can allow water damage below the tile. It's important to use a cleaner that is pH neutral. Advanced cleaners can even leave behind a little protection that adds shine and helps maintain the sealer.
Now that you've learned more about tile sealer, you may be ready to protect your home's surfaces. Then, you can rest assured that you've taken the steps to help your surfaces look good and last as long as possible.