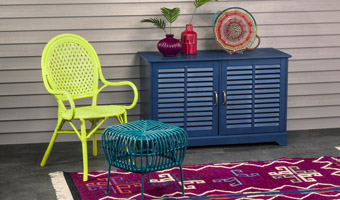 Whether you're refinishing furniture, upcycling home décor or making crafts, you may be wondering how to choose the best spray paint. To find the best type of spray paint for your project, it's important to consider what kind of surface you're painting and your desired final appearance.
What's the Best Metal Spray Paint?
When it's time to refresh objects like patio furniture, mailboxes and plant stands, it's a good idea to use a spray paint that's made for metal surfaces. Rust-Oleum Stops Rust Spray Paint delivers a durable finish that resists rust and corrosion, making it ideal for metal items that are used both indoors and outdoors.
This metal spray paint comes in a variety of colors, sheens and textures, so you can opt for a metallic, hammered or textured finish if you don't want a classic look.
Stops Rust also offers a paint primer that helps the spray paint adhere and better cover the metal's previous color, as well as a primer that transforms rusted metal into a paintable surface.
Finally, a Stops Rust clear top coat provides additional defense against rust, corrosion, tarnish and chips.
What's the Best Spray Paint for Wood?
The best spray paint for wood depends in part on the look you want to achieve. For instance, Rust-Oleum 2X Ultra Cover Spray Paint, which delivers twice the coverage of other Rust-Oleum general purpose spray paints, comes in a wide range of paint colors in traditional finishes like ultra matte, flat, satin, semi-gloss, gloss and high gloss.
If you'd prefer a high-end appearance, Rust-Oleum Universal Spray Paint is available in a choice of premium paint finishes, such as aged metallic, pearl metallic and forged hammered, as well as more traditional sheens.
Both spray paints are a great choice for spray painting wood furniture, home décor, crafts and more. You can use either of these products to paint particle board and wicker items.
If the paint color you select is significantly lighter or darker than the object's existing color, you may want to apply a coat of spray paint primer first to help prevent the old color from showing through. After you've painted, a clear top coat is a good way to add extra protection.
What's the Best Spray Paint for Plastic?
Choosing the best spray paint for plastic is a similar approach to choosing the best spray paint for wood. Rust-Oleum Universal and 2X Ultra Cover spray paints are both designed for use on plastic. So, similar to choosing spray paint for wood, much of your decision will come down to time and your desired outcome.
Whether you opt for traditional or trendy 2X Ultra Cover colors that help you complete your project in less time or the more luxurious appearance of a metallic or hammered finish from Universal, you'll likely find the ideal spray paint for plastic items.
As with other surfaces, you may want to consider beginning with a coat of spray primer and finishing with a clear top coat for even greater protection.
What's the Best Spray Paint for Glass?
Spray paint makes it easy to transform the look of ordinary glass objects like vases and bowls. If you want to change the color or texture of this type of item, Rust-Oleum Universal Spray Paint is an ideal spray paint for glass. It offers multiple color options as well as unique finishes, such as metallic, hammered and pearl.
For a more rustic finish, use Rust-Oleum Imagine Stone Texture Spray Paint to give objects like glass vases and lamp bases the look of natural stone. Or, if you prefer a semi-transparent look, you can achieve the appearance of frosted glass or sea glass with specialty spray paint for glass.
Another option is to turn a glass object into a reflective mirror. Rust-Oleum Mirror Effect Spray Paint delivers a mirror-like finish when applied to the reverse side of glass items like jars, vases, candle holders and more.
What Else Can I Spray Paint?
Spray paint can be used on more than furniture and traditional home décor. Specialty spray paints let you change the look of a variety of items and materials. For less ordinary paint jobs, Rust-Oleum offers:
Chalkboard Spray Paint

.

This spray paint turns wood, metal, plastic and glass surfaces into a usable chalkboard.

Glitter Spray Paint

. This spray paint adds sparkle and shimmer to wood, metal, plastic, wicker, ceramic and more.

Glow in the Dark Spray Paint

. After it's applied to wood, plastic, drywall or metal, this spray paint creates a glow after it's charged by natural or artificial light.
Outdoor Fabric Spray Paint.

Use this paint to update outdoor fabrics instead of replacing them. It's ideal for patio cushions and pillows.
With so many spray paint colors, textures and specialty formulas available, you'll likely have some decisions to make when choosing the best spray paint for your project. But once you do, you'll be on your way to completing a DIY project that adds function or style to your space.