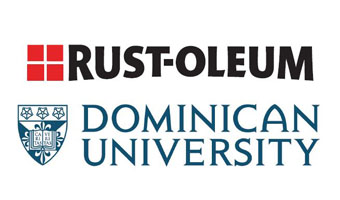 Vernon Hills, Ill., October 15, 2021 – A partnership between Rust-Oleum and Dominican University's Brennan School of Business, gives students insights from company leaders as well as opportunities to solve business challenges. The mutually beneficial program is proving to be a win-win for all involved.

Since 2019, students at the River Forest, Illinois-based University, have put their heads together to help solve marketing challenges for Rust-Oleum. The exercise is part of the Business Gateway Practicum, in which MBA students propose solutions to challenges faced by businesses.

One of Rust-Oleum's brands, Krud Kutter is familiar to DIYer's who need to clean up after a painting project but isn't well-known as a household cleaner. The marketing managers at Rust-Oleum are competing with giants like Lysol and Clorox for brand recognition and shelf space at grocery stores.

In a recent practicum, the students were tasked with developing a marketing strategy and tactics that would grow brand awareness of Krud Kutter and motivate consumers to purchase the product for their routine cleaning needs.

The students did some heavy brainstorming and created compelling presentations for Rust-Oleum marketing leaders. Divided into groups, they competed with each other to come up with the best idea.

Students benefit from the out-of-classroom experience provided by the partnership. They are thrown into a real business case with real people and real consequences – knowledge they could not get by reading case studies or participating in simulations."

MBA student Eveliss Zenner said she deepened her understanding of the power of collaboration.

"The practicum gave me an opportunity to appreciate teamwork as well as my individual contributions," she said. "Working in groups takes a lot of cooperation. My biggest lesson was being able to work through our differences and still produce good results."

Rust-Oleum leaders found value in all of the ideas presented, but especially liked a guerrilla marketing strategy that included imaginative ideas such as YouTube videos showing Krud Kutter being used in public places like restaurants and parks.

Frank Glowacki, brand director at Rust-Oleum, was impressed by the students' creativity and strategic thinking.
"The student presentations were top notch," Glowacki said. "It's what you present, how you present and how you present as a team. They came up with ideas we never considered. They were really buttoned up."

In addition to delivering creative ideas to Rust-Oleum, the students received lessons from company leaders who shared insights about strategic brand positioning and the critical need for market research before taking a product to consumers.

A strong supporter of the partnership, Rust-Oleum's Senior Vice President of Marketing, Jim Stinner said he can envision some of the students joining the Rust-Oleum family someday.

"We see these students as a possible talent pool for our future," he said. "They know a lot about our business and we've built great relationships already."
Dominican and Rust-Oleum are now making plans for the 2022 partnership. Rust-Oleum's focus will likely revolve around how business models have changed due to the COVID-19 pandemic and how to leverage those learnings going forward.