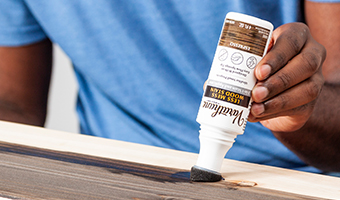 New 2-in-1 stain and applicator works like shoe polish
Vernon Hills, Ill., June 8, 2022 – Less Mess Wood Stain is an easy-to-use, water-based, low-odor, fast-drying stain that's perfect for small projects, crafts and even parties. The 4-ounce bottle comes with a foam tip applicator similar to shoe polish that controls the flow of the stain and keeps your hands clean. If you've been intimidated by the thought of tackling a messy wood stain project, Less Mess Wood Stain from Varathane is your solution!
Available in on-trend colors, Less Mess Wood Stain makes it easy to customize your finish and achieve results that will be a source of pride. Simply press, squeeze and apply the stain, then let it dry. The product can be worked into your project with ease and stores easily when you're done.
Created as an alternative to traditional staining methods that use rags or brushes, Less Mess Wood Stain doesn't require additional tools or materials and removes the fear factor of wood staining.
Less Mess Wood Stain is available in Dark Walnut, Smoke Gray, Ebony, Golden Oak, Espresso and Gray.
Varathane offers a variety of products for both DIYers and woodworking professionals. Varathane wood care products include traditional and specialty wood stains, polyurethanes, epoxy resin, and more.