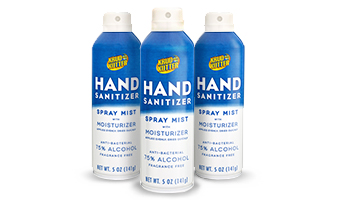 Spray mist with moisturizer applies evenly and quickly
Vernon Hills, Ill., May 11, 2021 – Having hand sanitizer close by has become as important as carrying your phone, wallet and keys. But leaky containers, soggy alcohol wipes or clunky pump bottles can be a hassle. An easy spray solution is now available from Krud Kutter.
Krud Kutter Hand Sanitizer's misting spray applies evenly and quickly on your hands. Propelled by compressed air, the fragrance-free formula includes a moisturizer, has no lingering odor and dries fast.
"You don't have to squeeze a bottle, or repeatedly pump a sprayer, just press the button until you have nice even coverage," says Jesse Kruit, brand manager at Rust-Oleum. "If you've ever used spray sunscreens, you know how simple it is to apply."
It's also helpful when applying to children's hands and perfect for school teachers, gym owners, or anyone who needs to apply the product on a lot of hands quickly and easily.
The CDC recommends using sanitizers with a minimum of 60% alcohol. Krud Kutter Hand Sanitizer Spray has a clinically tested, 75% alcohol formula that is dermatologist approved, FDA registered, and manufactured in the USA.
The Krud Kutter brand is part of Rust-Oleum's growing portfolio of household and industrial cleaning brands including Mean Green, Concrobium, Moldex, Whink, Jomax, and Roto-Rooter drain cleaners.
Several of Rust-Oleum's consumer and industrial products are registered on the EPA's List N of disinfectants approved for use against SARS CoV-2 (COVID 19) Click here to see which Rust-Oleum products meet that standard.