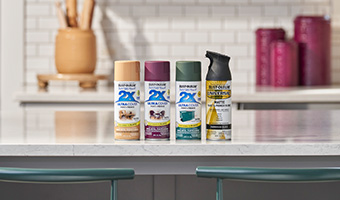 Curated spray paint palettes designed to energize and transform your space
Vernon Hills, Ill., April 4, 2022
With all of us yearning for renewal, revival and invigoration, Rust-Oleum has chosen Satin Hunt Club Green as its spray paint color of the year for 2022. Versatile enough to create a bold statement or a soothing accent, Satin Hunt Club Green can be mixed and matched with the nine shades in our supporting color palettes.
"Our color experts have been closely watching home décor trends and color forecasts to curate these collections," said Grace Khoury, spray paint brand manager at Rust-Oleum. "Satin Hunt Club Green is a sumptuous shade that will evoke the comfort of nature and create a revitalizing harmony in your home."
Our three accompanying color palettes are inspired by nostalgic styles, restorative earth tones and bold sophistication. They offer an eclectic mix of modern energy and stable tranquility.
The palettes are:
Invigorating

— Reflect joy and optimism within your space with this vibrant collection.

Colors include:

Satin Summer Squash, Satin Magenta, Metallic Cobalt Blue, Satin Hunt Club Green

Serene

— Embrace the timeless relationship between earth and soul with colors inspired by nature.

Colors include:

Chalked Aged Gray, Matte Metallic Copper, Satin Moss Green, Satin Hunt Club Green

Grounded

— Create an air of elegance grounded in familiar tones that are sure to make a statement.

Colors include:

Farmhouse Matte Black, Satin Aubergine, Gloss Khaki, Satin Hunt Club Green
Each of Rust-Oleum's different brands of spray paint are represented among the groups. They include the Painter's Touch 2X Ultra Cover, Stops Rust, Chalked, and Universal spray paint brands. It's easier than ever to transform something ordinary into something extraordinary with Rust-Oleum spray paint.
Click here to see the palettes.