About Rust-Oleum® HOME Deep Tint Base Kits
Rust-Oleum® HOME Kits are an all-in-one Floor Coating Kit that has everything you need to transform the look of any outdated floor without the cost of replacing it. It can be used on tile, wood, laminate, concrete, vinyl, linoleum and more. It's an easy-to-use, extremely durable system that will bring a brand new look to your space. Each kit contains a Base Coat, a Top Coat, and a 4 oz cleaner. After cleaning the floor, apply the Base Coat in your desired color and then apply the required Top Coat in one of two sheens.
Easy 2-step system
Maximum scratch & stain resistance
Walk on in one day
No stripping, sanding or priming
Base coat and top coat are required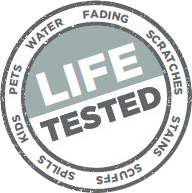 FOR BEST RESULTS
Simply clean the floor first with the included cleaner degreaser and then apply the Base Coat. Apply the Top Coat 6 hours after application of the Base Coat.
KIT CONTENTS
1 Quart Base Coat Tint Base
1 Quart Top Coat
4 oz. Cleaner