About Rust-Oleum HOME® Floor Ultra White / Tint Base Base Coat
Rust-Oleum HOME® Base Coat is Step 1 of 2 of this extremely durable interior Floor Coating system. This easy-to-use system can transform the look of any outdated floor without the cost of replacing it. The Base Coat brings a variety of color options you can choose from to refresh your space just by painting your floor. It can be used on tile, wood, laminate, concrete, vinyl, linoleum and more. Apply the Base Coat in your desired color and then apply the required Top Coat in one of two sheens.
Easy 2-step system
Superior adhesion to tough surfaces
Maximum scratch & stain resistance
Walk on in one day
No stripping, sanding or priming
Base coat and top coat are required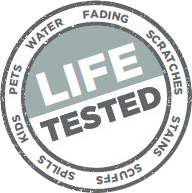 FOR BEST RESULTS
Simply clean the floor first with a cleaner degreaser and then apply the Base Coat. Apply the Top Coat 6 hours after application of the Base Coat.
AVAILABLE SIZES