About Rust-Oleum HOME® Floor Ultra White / Tint Base Kits
Rust-Oleum HOME® Floor Coating Kits have everything you need to transform any outdated floor without the cost of replacing it. Can be used on tile, wood, laminate, concrete, vinyl, linoleum and more. It's easy-to-use, extremely durable and will bring a brand-new look to your space. Kit covers up to 100 sq. ft. After cleaning the floor, apply the Base Coat in your desired color and then apply the required Top Coat in one of three sheens.
Easy 2-step system, with no stripping, sanding or priming
Maximum scratch and stain resistance
Walk on in one day
Base Coat and Top Coat are required
Tint base coat to the color of your choice or use as is for Ultra White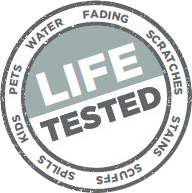 FOR BEST RESULTS
Clean floor with included heavy-duty cleaner. Apply Base Coat with high-quality brush for trim and 3/8" nap roller cover for an even surface coat. For White, 2 coats are required -- wait 6 hours before applying necessary touch-ups. When touched-up areas are dry to touch (about 1-2 hours), apply required Top Coat using a high-quality, ¼" nap roller cover. If second coat is desired, wait 1-2 hours between coats.
KIT CONTENTS
1 Quart White Tint Base Coat

1 Quart Top Coat in selected sheen

4 oz. Cleaner