Rust-Oleum Projects
How to Paint Removable Racing Stripes on Your Car
Estimated Time

2 Hours

Challenge Level

Intermediate

Tools & Supplies:

Masking paper or plastic sheeting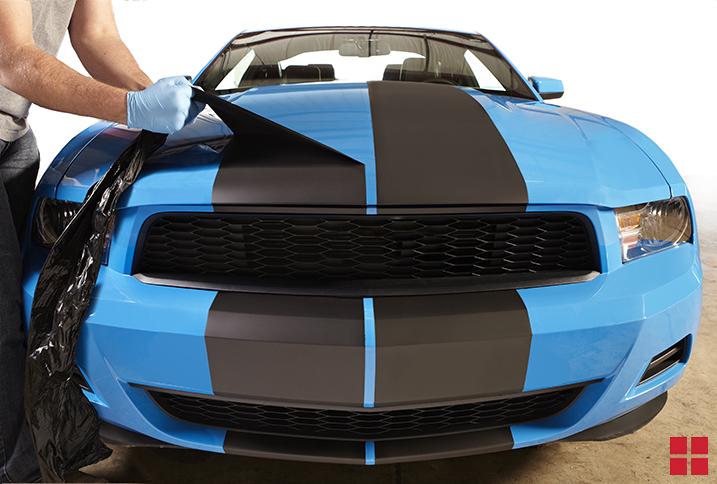 These temporary racing stripes are easy to apply and even easier to remove. Here's how we customized a car with Peel Coat to create these impressive removable racing stripes.
PREPARE: Before you start painting, make sure the hood of your car is completely clean by washing it with soap and water, rinsing, and letting it dry completely. Once your hood is clean and dry, use painter's tape to mask off your racing stripes. Then, cover the fenders, grill, windshield, and the rest of the hood with masking paper or plastic sheeting to protect them from overspray. Consider covering the floor with a drop cloth to protect it from paint as well.
PAINT: To start painting, first shake your can of Matte Black Peel Coat for one minute after the mixing ball starts rattling. To apply your first coat, hold the can 8-12" away from your hood and spray in a back-and-forth motion, slightly overlapping each stroke. You should aim for about 50 percent coverage on your first coat, meaning you can see about half of the original paint through your first coat of spray paint. Then, apply four or more additional coats (allowing five minutes in between each) to build the coating. The more coats you apply, the easier it will be to remove the stripes when the time comes.
FINISH: Immediately after applying your final coat, carefully remove the painter's tape and masking paper from your car. Then, let your new racing stripes dry for at least 24 hours. Once they're dry, you're ready to show off your design on the road. Your new racing stripes will last through rain, car washes, and regular wear and tear from driving.
REMOVE: When you're ready to remove the stripes, slowly rub one edge of a stripe until it starts to peel up. Once you get the edge started, the coating will peel off in large pieces. For easiest removal, we recommend peeling off your racing stripes within six months.