Rust-Oleum Projects
DIY Halloween Door Decoration - Chalkboard Paint
Estimated Time

1 Hour

Challenge Level

Easy

Tools & Supplies:

Synthetic Brush, Foam Brush or Foam Roller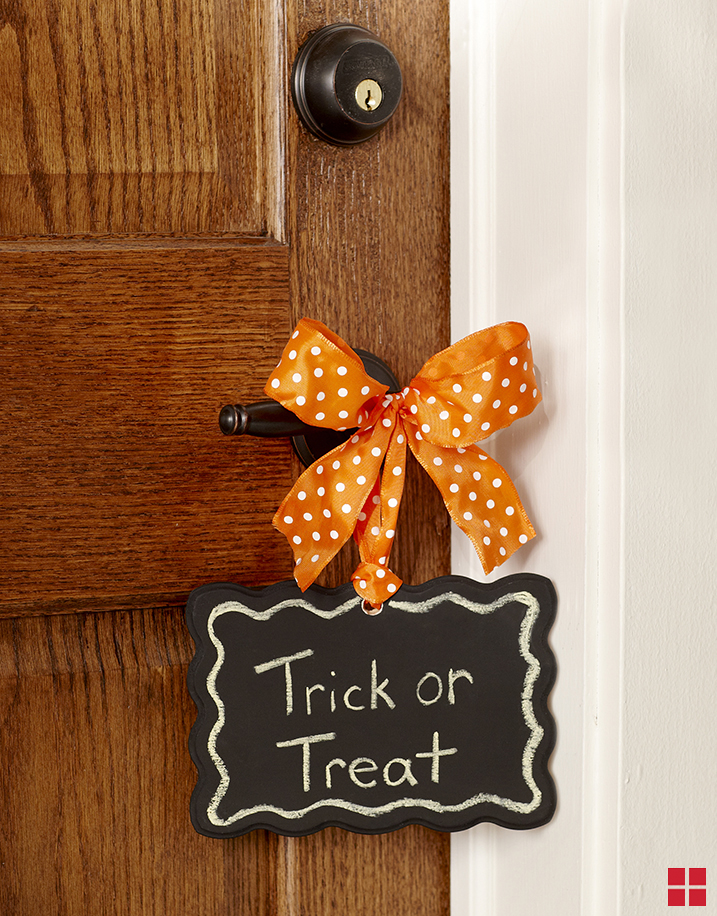 Whether you use it to write a spooky message or just to let trick-or-treaters know you're out for the night, this Halloween door hanger is festive, chic, and probably one of the easiest craft projects you'll ever tackle. Plus, you can easily switch out the ribbon for different holidays.
PREPARE: Work in a well ventilated area and cover nearby items with a drop cloth to protect from paint splatters. Lightly sand the wooden tag and wipe away dust with a lint free cloth.
PRIME: For best results, prime the wood with Ultra Cover 2x Primer spray. Apply two or more light coats of the primer a few minutes apart, and let it dry for 2 hours.
PAINT: Once the primer has dried for 2 hours, you're ready to apply the chalkboard paint. Using a foam or synthetic brush, apply the Chalkboard Brush-On paint to the wooden tag, using light, even strokes to ensure a smooth finish. Apply 3-4 coats, waiting at least 2-4 hours in between each coat.
FINISH: Wait 3 days before using the chalkboard. After 3 days, condition the chalkboard by rubbing the side of a piece of chalk over the entire area and erasing. Once the chalkboard is conditioned, it's ready for use. Finish off your sign with a festive Halloween ribbon.
Now all that's left is to write your creative message and show off that Halloween spirit. Don't forget to stock up on decorative ribbon for the rest of the year's holidays!