Rust-Oleum Projects
Reclaimed Wood Tabletop
Estimated Time

3 Hours

Challenge Level

Advanced

Tools & Supplies:

Varathane Wood Stain - Vintage Aqua, Worn Navy, Dark Walnut, Kona

Varathane Triple Thick Matte Polyurethane

Table with Removable Glass Top

Pallet Wood (Broken Down), Red Oak Boards, or Reclaimed Wood

Sandpaper: grits 120, 180, 220

High Quality Synthetic Bristle Brush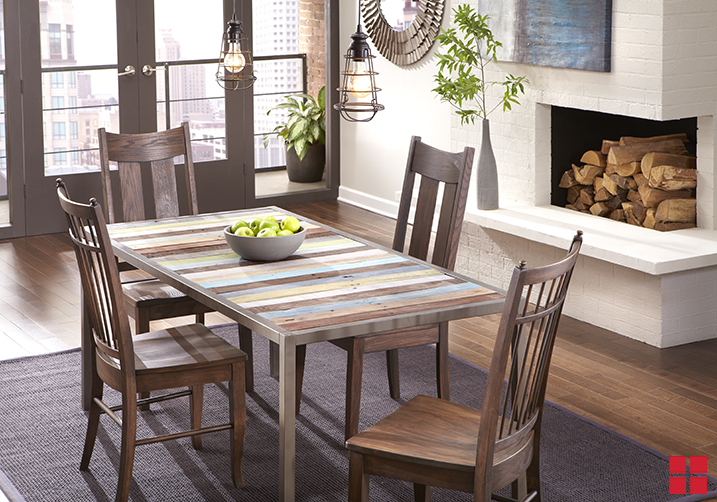 PREPARE:

Always work in a well-ventilated area. Cover the floor and nearby items with drop cloths. Carefully remove the glass piece from the table. Use a chop saw or handsaw to cut down the wood to match the length of the table. Use a tape measure to ensure that all pieces are of equal length. Ensure the pieces fit in the table frame.

SAND:

Sand the surface of each wood piece lightly, progressing from 120-grit, to 180-grit finishing with 220-grit sandpaper. Always sand in the direction of the grain. Remove sanding dust between each grit of sandpaper by lightly dragging the tack cloth across the surface.

STAIN:

Using a clean, lint-free rag, generously cover the wood pieces with wood stain. Let the stain sit for 3-5 minutes (or as instructed on the label) then wipe off any excess using a clean rag, wiping in the direction of the grain. Ensure that all excess stain is removed form the surface. Let dry for 1 hour.

PROTECT:

Protect wood pieces by applying 2-3 coats of Varathane Triple Thick Matte Polyurethane using a high quality synthetic bristle brush. Wait 2 hours between coats. Allow to dry 2 hours after application of final coat. Allow 48 hours to cure before moderate use of project and 7 days for total cure.

FINISH:

Carefully place the wood pieces next to each other inside the table frame. Make sure there are no gaps in between the wood pieces display your reclaimed wood table in your dining area.