Customer Project
Wine Bottle Holder
Estimated Time

1 and a half Hours

Challenge Level

Intermediate

Tools & Supplies:

3' x 5" x 1" Wood Stock (this project can be made largely from scrap wood)

Sandpaper: grits 120, 180, 220

Countersink Drill Bit Matching Size of Screws

Belt Sander or Hand Plane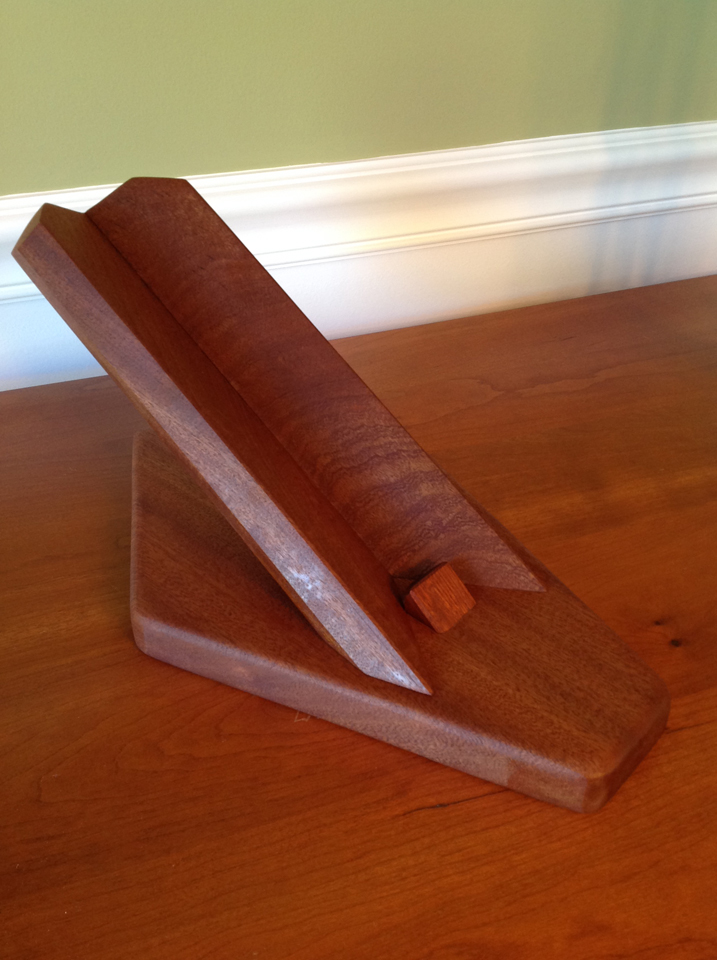 The dimensions of this project are not as critical as the positioning of the holder on the base. We use a piece of scrap wood approximately 12" long and 1" thick and cut complementary angles to create a modern shape for the base. Sand the edges and ease the sharp corners.
The holder, or backing assembly that the bottle rests on, is sawn from 11" long by 3" wide stock, with both the long edges beveled at 40 degrees.
Once all pieces are cut, sand up to 220 grit.
Apply glue to the bevel-cut edges of the backing assembly, and position it so that the edges meet; tack it together using a brad nailer.
Once it is dry, pre-drill and fasten it with two 1 1/2" wood screws. Plug holes with dowels, cut flush and sand to 220 grit once it is dry.
Using miter saw, cut the lower portion of the backing assembly at 35 degrees so that it sits at an angle on the base.
Using a belt sander or plane, fine-tune the fit if necessary.
Measure approximately 3" from the front of the base to position where the leading edge (front end) of the backer assembly will rest.
Pre-drill from underneath the base up into the backer assembly. Attach using glue and 1 1/2" wood screws.
Cut a small stop block piece from scrap and position so that when a wine bottle rests, it contacts the stop block. Mark this location and, after removing the wine bottle, reposition the stop block and affix with glue only.
Clean up any excess glue and apply two coats of stain. Let dry.