Customer Project
Creator's Studio Project: Flower Pot Overalls
Estimated Time

1 Hour

Challenge Level

Easy

Tools & Supplies: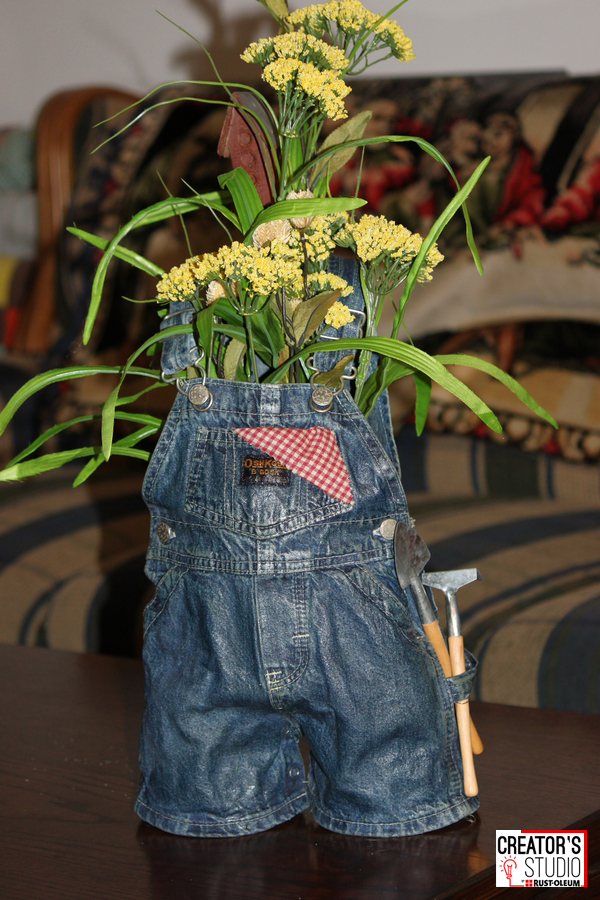 This project is shared from a member of the Rust-Oleum Creator's Studio. Here's how she used Varathane Spar Urethane to make this ultra-inventive flower planter from an old pair of her grandson's overalls.
"The product is easy to use, has easy cleanup, no odor (great for the allergies) and what really makes it a winner is that these have been outside on my gazebo and patio for two years, through rain and strong winds; and the finish is still durable. All I do is just dust it off, or wipe with a damp cloth as needed (and replace the flowers when they fade-I'm not good with live plants). I am really happy with this product and use it for all of my outdoor builds and projects.

For this project, I started by placing a large plastic flower pot inside the overalls for support; and PVC pipe up the legs so they would stand. Then, I just applied layers of the spar urethane all over on the outside (while allowing some of the natural folds in the material). When it was dry and could stand on its own, I repeated the process for the inside. I later added a wood form for the legs and a platform to place a flower pot on. The leg form was used to attach a child's pair of sneakers to complete the look."

For more inventive projects like this one, check out Rust-Oleum's Creator's Studio. The Creator's Studio is an innovative community of people who are passionate about DIY paint and stain projects, just like you. Join for free today to start sharing your projects and ideas with our buzzing community of DIYers from all backgrounds and skill levels.
---