Rust-Oleum Projects
Protect Your Garage Floor
Estimated Time

1 Day

Challenge Level

Easy

Tools & Supplies:

Paint roller or nylon-polyester brush

Pump sprayer or watering can

Garden hose with spray attachment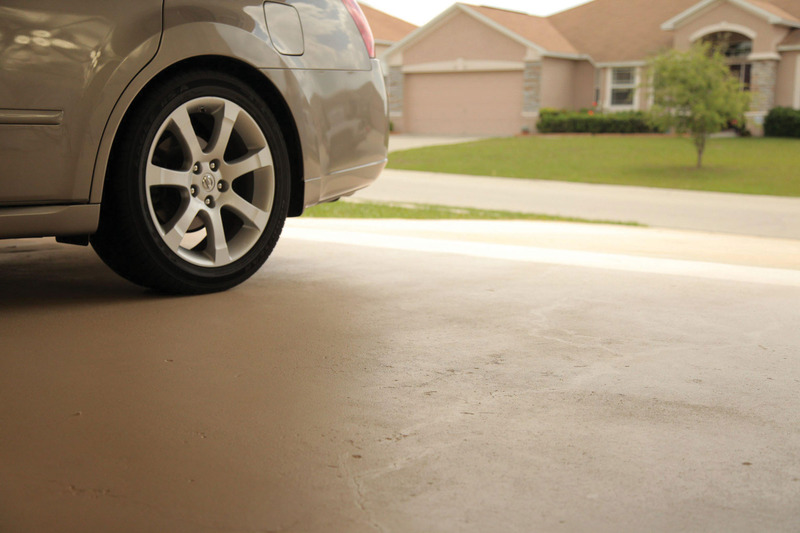 Protect and rejuvenate your garage floor with SEAL-KRETE Clear-Seal Protective Concrete Sealer.
Step 1: Prep & Prime
Proper surface preparation is critical to the success of all SEAL-KRETE coatings. The surface should be clean, dry, sound and free of dirt, dust, oil, wax and grease. You may need an oil stain remover such as Krud Kutter Oil Grabber to lift stubborn oil stains. Pressure washing is recommended.
Bare Concrete:
Concrete must have cured for a minimum of 30 days. Etch smooth-finished concrete (such as basement or garage floors) with a concrete etching solution like SEAL-KRETE Clean-N-Etch. Note: If etching with muriatic acid the area must be neutralized before proceeding.
Painted Surfaces:
For use over one-part water-based coatings only; not recommended over acid-based stains or oil-based coatings. Freshly painted surfaces must have cured for a minimum of 72 hours. Paint must be sound (not blistering or peeling). Existing painted surfaces should be cleaned with a solution of Trisodium Phosphate (TSP) and water. Rinse well and allow to dry.
Step 2: Apply Sealer
SEAL-KRETE Epoxy Seal comes as a tint base or premixed in light or dark gray. It can be tinted to 38 different colors. This product is ready to use; do not dilute. Use only when air and surface temperatures are 55° to 90°F (13° to 32°C). Additional dry time is needed in lower temperatures or when relative humidity is more than 50%.
If more than one gallon is used, intermix all product to ensure color uniformity; stir well. Apply a very thin coat with a roller** or nylon-polyester brush. Wait 4–6 hours. Working in small (5'x5') sections, apply second coat of EPOXY-SEAL perpendicular to the first; immediately sprinkle flakes onto wet paint. ** Use 1/4" nap for smooth-troweled surface, 3/8" nap for broom-finished surface, 1/2" nap for rough or textured surface.
Maintenance
Clean with a mild soap and water solution. Do not use solvent-based cleaners.