Rust-Oleum Projects
Update your pool deck
Estimated Time

1 Day

Challenge Level

Easy

Tools & Supplies:

Paint roller or nylon-polyester brush

Pump sprayer or watering can

Garden hose with spray attachment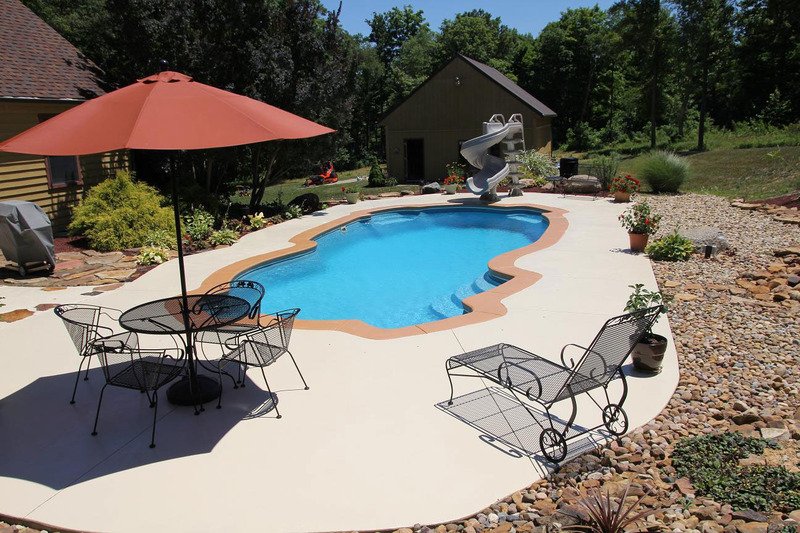 A fresh coat SEAL-KRETE Floor-Tex Textured Concrete Coating on your pool deck can make it look like new and give it a slip-proof finish.
Step 1: Prep & Prime
Proper surface preparation is critical to the success of all SEAL-KRETE coatings. The surface should be clean, dry, sound and free of dirt, dust, oil, wax and grease. You may need an oil stain remover such as Krud Kutter Oil Grabber to lift stubborn oil stains.

Bare Concrete: Concrete must have cured for a minimum of 30 days before application. Etch the surface with SEAL-KRETE Clean-N-Etch to allow for proper penetration and adhesion. Etching is especially important for smooth-troweled concrete surfaces and is also recommended for rough finished surfaces. After etching, rinse thoroughly and let dry. For best results apply one thin coat of SEALKRETE Lock-Down Concrete Bonding Primer.

Surface Cracks: Use a paintable acrylic or urethane caulk to repair hairline cracks. For other cracks (up to 3/8" wide) use a flexible, acrylic concrete patch or filler. Let all materials cure fully.

Previously Stained or Painted Concrete: For use over one-part water-based coatings only; not recommended over oil-based coatings. Remove loose or peeling paint and degloss surface by sanding (150–200 grit sandpaper).* Follow with a general cleaning. Rinse thoroughly and let dry. Then coat the surface with SEALKRETE Lock-Down Concrete Bonding Primer.


Step 2 Apply Paint:
SEAL-KRETE Floor-Tex Textured Concrete Coating is ready to use; do not dilute. Use only when air and surface temperatures are 50° to 90°F (10° to 32°C). A minimum of 2 coats is recommended. Apply first coat and let dry to touch, then apply second coat in a direction perpendicular to the first.

Brush: Use a high quality, nylon bristle brush.

Roller: Use a short nap (1/8", 3/16" or 1/4") cover – synthetic or mohair blend.


Step 3 Protect Your Investment:
For added protection and durability, apply a high quality clear acrylic finish such as SEAL-KRETE Clear-Seal – available in both satin and gloss sheens.

Floor-Tex Coverage: 60 sq. ft. per gallon


Step 4 Maintenance:
Clean occasionally with a mild soap and water solution. Do not use solvent, citrus or oil-based cleaners. If needed, scrub surface with a soft bristle brush or shop broom. Rinse with a garden hose or power washer (less than 1200 psi) held at least 18 inches from the surface, using a fan spray pattern. Re-apply sealer every 2 years, or as needed.